Fifteen Years of Printmaking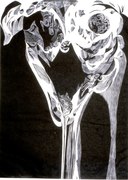 Genesis Day 3 (wood engraving) (1975)

Genesis Day 6 (wood engraving) (1975)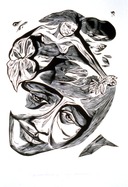 Joy Cometh in the Morning (Psalm 30) (1973)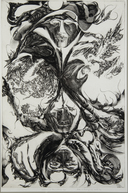 Landscape of Man in the Nuclear Age (print, 1) (1981)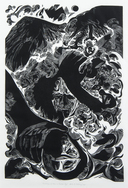 Landscape of Man in the Nuclear Age (print, 2) (1981)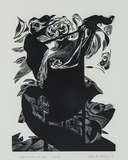 Night Shineth as the Day (Psalm 139) (1973)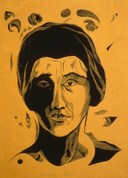 Portrait of the Artist #3 (1970)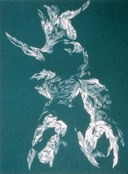 She Sent Out Her Branches (Psalm 80) (?)

Sinai Rocks (1973)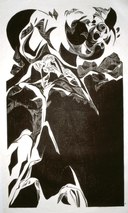 Sinai Summit (1973)
The Embrace (1970)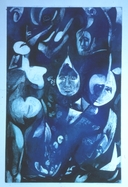 The Human Abstract (1968)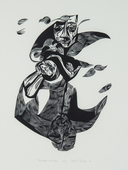 The Measure of My Days (Psalm 39) (1973)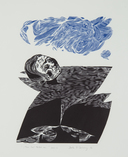 Thou Hast Tested Me (Psalm 17) (1973)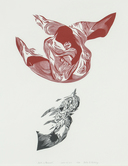 Youth is Renewed (Psalm 103) (1973)
Fifteen Years of Printmaking: A Selection from 1968-1983
Exhibition shown at the Langdell Gallery of Harvard Law School
In 1983, Berta Golahny prepared and installed an exhibition for the Langdell Gallery of the Harvard Law School. The show opened on April 6, and was planned to continue through June 23. However, during the second week of the exhibition, all of the twenty-one prints were stolen, and the artist unexpectedly found herself making a report to the Cambridge Police Department. No prints were recovered from this exhibition. It seems a fitting homage to the artist's vision to recreate this exhibition, virtually, in digital form. Fortunately, additional impressions of these prints remain, although the artist printed them in small editions. One impression of the Landscape of Man, 1983 (copper engraving) is held by the print room of the Fogg Art Museum, and one impression of the wood engraving Self Portrait #3 is held by the Boston Athenaeum.
Golahny selected prints created between 1968 and 1983 to demonstrate the three printmaking techniques with which she was working during these years and to show how she rendered similar themes in these various media. The wood engravings are cut on boxwood, the intaglio etched or engraved on copper, and the wood cuts made on white mahogany. Two related series center the show. These are the Psalms, wood engravings made between 1968 and 1973, and Landscape of Man, here represented by the intaglio of around 1968 (The Human Abstract), the wood engraving made in 1981 and the copper engraving completed in 1983. Landscape of Man concerns people confronting annihilation and hoping for survival. The six Psalms wood engravings, along with the two Genesis wood engravings, convey creation, joy, and triumph over adversity. The intaglio Sinai Rocks and the woodcut Sinai Summit were based on sketches Golahny made of the mountain during a visit to the Middle East in 1974. She took advantage of the intaglio and woodcut techniques to capture flat areas of brilliant light and rich blacks, the dramatic chiaroscuro suggesting the mountain's grandeur.
Not every image here can be dated precisely. The Psalms series dates from the late 1960s and predates the Genesis series, both the prints and paintings of which (see the Genesis gallery elsewhere at this site) were created ca. 1970-1980. Golahny preferred not to date her work, partly because she sometimes worked on a piece over a span of years.
Fifteen of the prints in the show are here included (measurements are in inches, height x width):
WOOD ENGRAVINGS:
Landscape of Man in the Nuclear Age, 18x12
Genesis Day Three, 12x9
Genesis Day Six, 9x9
Night Shineth as the Day (Psalm 139), 12x9
Thou hast tested me (Psalm 17), 12x9

Joy Cometh in the Morning (Psalm 30), 12x9
The Measure of my Days (Psalm 39), 12x
Youth is Renewed (Psalm 103), 12x9
She Sent out her Branches (Olive Tree, Psalm 80), 5x4
Portrait of the Artist #3, 12x9
ENGRAVINGS WITH SOFTGROUND ON COPPER:
Landscape of Man in the Nuclear Age, 1983, 28x18
The Human Abstract, 1968, 29x18
Sinai Rocks, 12x18
WOODCUTS ON WHITE MAHOGANY:
Sinai Summit, 36x21
The Embrace, 1970, 30x20